In Discussion with:
Baris Gokturk
A Conversation of Dance, Protest and Fire
Baris Gokturk interview with Anaïs Lellouche.
Special thanks to Katya Conrad.
"The great thing about art is that it can make the invisible visible."
Anaïs Lellouche
The theme of dance plays a significant role in your work, particularly within the Riot_Fire series and your monumental painting ALL SAINTS.

How do you see the place of dance in our society, and what do you think it can offer us?
Baris Gokturk
The first time dance made a concrete appearance in my work was actually through a collaborative project I worked on with eight other artists in Puerto Rico. Together, we built a dance platform in the forest. It was intended to bypass the verbal language in favor of bodily expression as a starting point for people to meet, get to know each other and move forward with ideas.
In the Riot_Fire paintings, I wasn't really thinking about dance but those works certainly paved the way to All Saints which is all about dance in the public space of protest. It celebrates the block party culture in New York, makes reference to Dance Macabre paintings and drawings from the time of the bubonic plague in Europe and ultimately focuses on dance as a form of free expression and protest.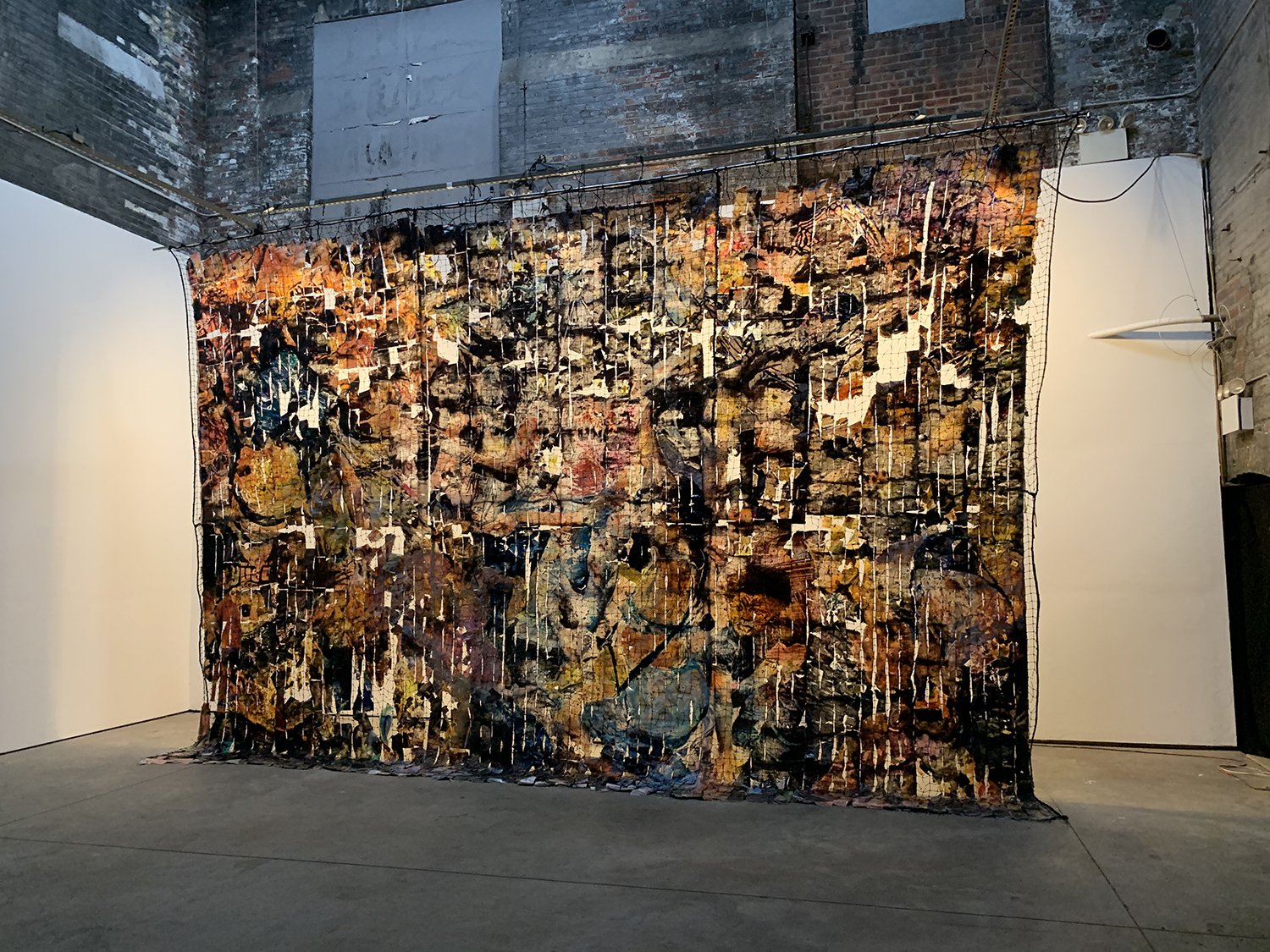 AL
ALL SAINTS is your largest commission to date and is displayed on a monumental scale.

Can you tell us a bit about the process of creating a work like this?

What is the relationship between the work and the surrounding architecture/setting?

Do you see it as a site-specific work?
BG
All Saints is a large scale sculptural painting commissioned by The Boiler@ELM Foundation as part of their guest artist program. I moved into this extraordinary space for four months and created the piece specifically for the space. It's in essence a block party painting that has gone through processes of abstraction dealing with the plague and the public spaces of dance and protest.
For this project at the Boiler, I looked into public dancing as a space of joy, revolt, and acknowledgement of life and death. Dancing in the time of pandemic can be traced back to the Middle Ages. For instance, death dance pictures created during the bubonic plague in Europe feature people from different status and social class dancing hand in hand with skeletons, acknowledging the proximity of life and death. A little later, Brueghel's depiction of town dances establishes a similar connection between euphoria and madness at times of crisis. The block party, a particularly dear phenomenon in New York, can be understood as the modern version with its history of bringing a whole neighborhood together on the street.
Affected by the ongoing pandemic and inspired by the collective longing for bodily expressions, I strived to create a connection between my ongoing Riot_Fire series that focuses on the potential of street fires started during uprisings around the world and his exploration of dance in this large scale work for The Boiler.
"I'm interested in a particular mode of seeing: Seeing through, seeing beyond, seeing behind, seeing despite, seeing in the dark…"
AL
You have exhibited works in both public spaces such as for Art on the Grid with the NYC Public Art Fund Commission, and within museum exhibition spaces.

How do you think the environment affects your creative process and/or viewer responses to the works? 

BG
It felt great to contribute to the NYC Public Art Fund's Art On The Grid project. Works were displayed in multiple displays in bus stations, digital info-boards and billboards across the city and in different neighborhoods. The access level between art and public this project created made a lot of sense to me in connection to my work that references the potential of public space and collective action.
AL
You have a unique way of creating your paintings, which often involves the slicing and ripping of canvas, combining ideas of creation and destruction.

How do you negotiate between obscuring and revealing parts of the image?
BG
I'm interested in a particular mode of seeing: Seeing through, seeing beyond, seeing behind, seeing despite, seeing in the dark… These modes, of course, have to do with a political condition and in response to affairs in my native Turkey as well as the United States. I am also interested in finding a formal process and a visual outcome in my work that reflects these modes of seeing on a materially tangible surface.
AL
Your work is inspired in part by political protests such as the BLM movement, the Occupy Wall Street movement and the Gezi protests in Turkey.

How do you think the worlds of art and activism / protest intersect?
BG
It can be tricky. I am tempted to think that artists, just like people in general, should take part in activist movements as their duty to participatory democracy as well as to their own sense of responsibility towards accomplishing justice, equality and environmental sustainability in society. However I also think the artwork should preserve a certain sense of autonomy and freedom in finding form to ideas in its own way. In a nutshell, artists should be activists and art should be autonomous.
AL
What advice would you give to artists trying to make socio-political impact through their practice?
BG
It should be enough to participate in the world beyond a secluded studio practice, have questions about the world at large and the rest will manifest itself inevitably in the work. I am for a type of autonomy in the work informed by larger events but not dictated by them in a strictly driven format. There are many subtleties in visual language that social and political positions can be expressed in a distinctive way. That is why we need art; for a unique angle and a type of understanding of complex issues.
"I am for a type of autonomy in the work informed by larger events but not dictated by them in a strictly driven format."
AL
In times where our political world is so turbulent, how do you think that art and catharsis can be linked?

What space do you think art holds for healing?
BG
The great thing about art is that it can make the invisible visible. This applies to all art, not just retinal. Things that are visible, once made concrete by art through sensorial experience, become out in the open and that is the first step to any kind of regeneration.
AL
Who would you cite as your major artistic influences?
BG
I am interested in the pedagogical extensions of art making. Beside my studio practice, I also teach art and believe in the potential of art education. I am therefore influenced by figures such as Joseph Beuys, John Baldessari and Hito Steyerl, to name a few, who were and are active in these multiple fields of operation.

AL
Could you give us some insight into a few new and upcoming projects we should be looking out for?
BG
I'm currently working on a multimedia project called The Mine. It is a multi-disciplinary, site-specific project operating in-between spaces of mythology, politics and economy. Using a meerschaum mine that I recently gained access to near the city of Eskisehir in North-West Turkey as a starting point, the project considers the underground as the space beneath where both creative and destructive energies nurse their potential in form of raw materials and economic activity as well as mythological stories and human imagination.