MAT COLLISHAW
Equinox: Expo 2020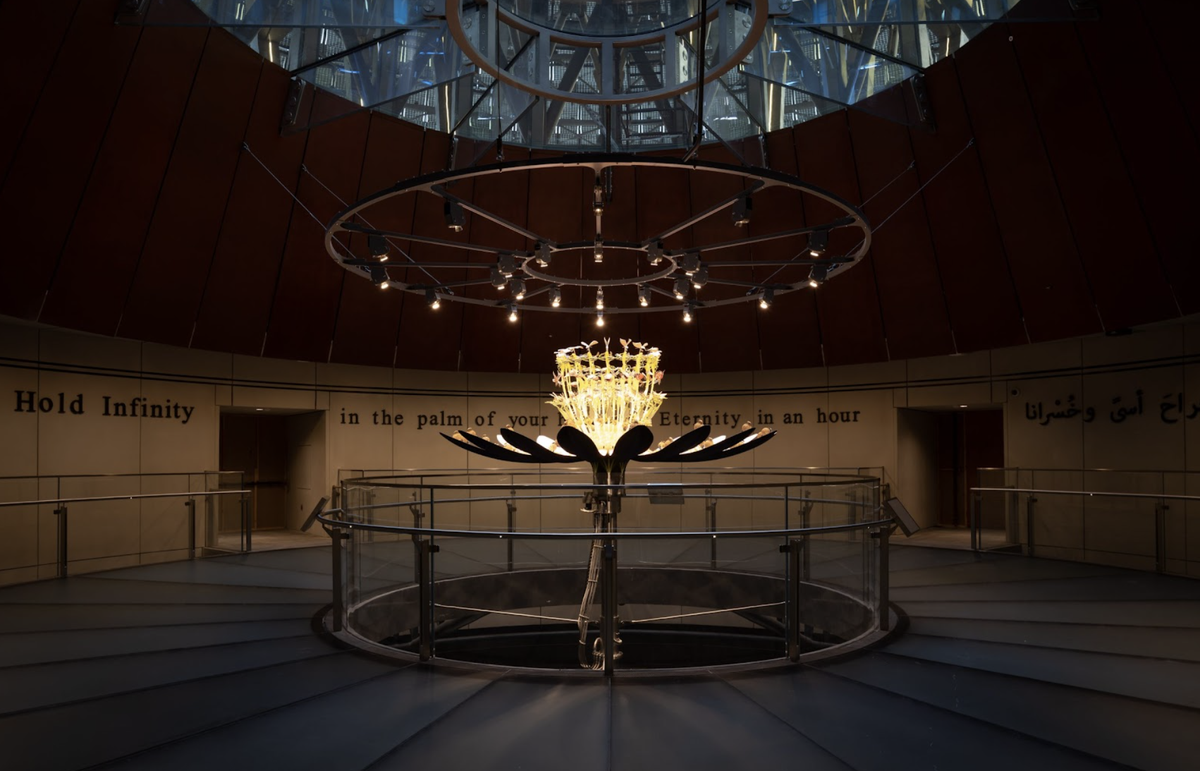 Mat Collishaw's Equinox, presented at EXPO 2020, Dubai (commissioned by EXPO 2020 and curated by FutureCity) presents an immersive, 3D artwork which uses zoetrope technology to create a fantastical, illusory centrepiece.
Equinox, a giant lotus flower, spins and turns with opening petals that reveal an array of insects which orbit he flower. The insects themselves are animated, giving the illusion of life within this artificial creation of nature. The petals, both decorative and functional, act as a container of sacred ecology, bringing to attention the fragile status and rapid decline of the natural world at the hands of humans.
Mat Collishaw (b. 1966, UK) is a London-based artist working across a variety of media. he is a key figure in an important generation of contemporary British artists that studied at Glodsmiths' College in London during the 1980s. His works bring forth darker sides of the natural world, influenced by notions of death, destruction and the beauty of decay.
Collishaw's work is in several public collections including; Arter Foundation, Istanbul, TR; Art Gallery of New South Wales, Sydney, AU; Artphilein Foundation, Vaduz, LI; British Council Collection, London, UK; Centre Georges Pompidou, Paris, FR; Fondazione Sandretto Re Rebaudengo, Turin, IT; Galleria Civica d'Arte Moderna, Turin, IT; Hiscox Collection, London, UK; Hortensia Herrero Foundation, Valencia, ES; IMMA, Irish Museum of Modern Art, Dublin, IE; Manchester City Art Gallery, Manchester, UK; Marguiles Collection at The Warehouse, Miami, US; Murderme, London, UK; Museum Huis Marseille, Amsterdam, NL; Museum of Contemporary Art, San Diego, US; Museum of Old and New Art, Hobart, Tasmania, AU; National Galleries of Scotland, Edinburgh, UK; Olbricht Collection, Berlin, DE; San Francisco Museum of Modern Art, US; Fundació Sorigué, Lleida, ES; Tate, London UK; The David Roberts Art Foundation, London, UK; Zabludowicz Collection, London, UK; 21c Museum, Louisville, US
"My work engages with subject matter that involves an engagement with how we as humans navigate the world and the choices we make.

The sustainability theme of 'Terra' provided a context, literally and metaphorically, for an experience that invites contemplation and reflection on the precarious nature of the earth's ecosystem...I hope it inspires people to want to protect their environment."