In Discussion with:
Othman Lazraq,
Founder of the Museum of African Contemporary Art Al Maaden (MACAAL) in Marrakech
"I've always grown up surrounded by art. I see this as a beautiful transmission that my dad gave me, we can speak the same language...

I think that was the most beautiful thing about this project."
Othman Lazraq is a collector and a practising architect. He's also the director of the Fondation Alliances, a non-profit organisation dedicated to cultural development in Morocco.
He is the president of the Museum of African Contemporary Art Al Maaden (MACAAL) in Marrakech.
The museum is home to Othman's family collection, which boasts over 2,000 works by artists from Morocco and other African countries. As President of the museum, Othman is focused on ensuring local outreach and accessibility, which has become the DNA of MACAAL.

Othman Lazraq grew up in a family of collectors, but he has always had a deep passion for contemporary art, and especially for photography. This led him to create a number of programmes, including the leading contemporary photography prize, Lcc, where he's the chairman of the jury.
Anaïs Lellouche
Othman, I am struck by the breadth of the MACAAL project and how, with a skilled and dedicated team, it has really managed to further the appreciation for Contemporary African Art on a national and international scale. It's also important to mention Meriem Berrada, MACAAL Artistic Director, she can't join us today but she has been with the museum
since its inception.
Othman Lazraq
Thank you so much for inviting me and giving me the opportunity to share our work over the past few years, organising and developing cultural projects in Morocco and throughout the continent. Meriem has been with me for the past eight or nine years, so she is part of the history of that and the DNA of the foundation as well.
AL
So to start with the Fondation Alliances, when was it created?
OL
The Fondation was created in 2009, it is based in Casablanca. It is a non-profit institution that was initially established by my family, which I then started running a few years later.
At the beginning the foundation was created to provide structure to the collection, but then it became committed to art and to culture by developing cultural projects in Morocco.
AL
Your Casablanca space recently opened in December. Can you talk a bit about that?
OL
I've always dreamed of having a space in Casablanca, we've had a small villa for a while but it wasn't in the centre of Casablanca. This is where we were organising exhibitions, and especially the Lcc Program exhibitions. We had to close it to be able to focus our efforts onto Marrakesh's museum. But now we have this space which we wanted to use to help, support artists, researchers and creators. It's a ground floor, 500 square metre space that is well equipped, and we regularly invite artists that don't have the chance or access to the infrastructure to propose an exhibition. It's also a window for what we do in Marrakech, we have the MACAAL residents programme involved at some points, we invite the artists into the Casablanca space. It's two different crowds, Casablanca and Marrakech, they're not far from each other, but they're far mentality-wise and in terms of direction.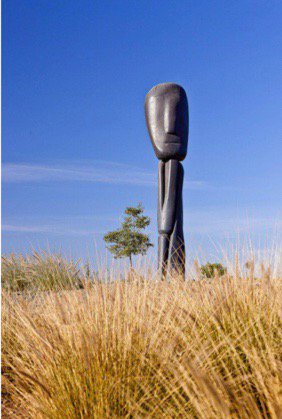 AL
2013 was quite a momentous year for you, starting with the ambitious Al Maaden Sculpture Park.
OL
So, Al Maaden is actually a golf park that our family group has developed in Marrakesh. We invited 26 artists to create site-specific, monumental sculptures. The highest is probably 8m high and the longest is 14m. We only ended up choosing 13 works.
Among these are works by Wang Keping, a Chinese artist; Sunil Gawde, an Indian artist; Moroccan artists; Egyptian artist, Moataz Nasr. To accompany this, at MACAAL, we have a programme where we invite people to visit the museum and they can also have a guided tour of the sculpture park.
AL
How was your experience of commissioning artists to respond to the site? What were the challenges and what do you recall most fondly from this process?
OL
The selection process was targeted. We started with artists that my dad and I really wanted to have on the site. We met the artists at some point during our life. We know their work because we probably collect them at a smaller scale. We couldn't take too many risks in making difficult works because in Morocco, we don't have the infrastructure. We worked with artists that could come to Morocco and create on site. Some of the works such as Wang Keping's, which came in from China, came in different pieces. It's also very rewarding for me because I've always grown up surrounded by art. I see this as a beautiful transmission that my dad gave me, we can speak the same language, that we can actually travel together and to the same fairs. It also solidified our relationship, I think that was the most beautiful thing about this project.
"Everything starts for a reason. When we launched the Foundation, and all the projects and programmes that we've developed, it was because there was a huge lack, not only of infrastructure, but also a lack of expertise and spaces, to give a voice to people and artists."
AL
What's striking is that when you started the Foundation in 2009 and everything that stemmed out of it since, there was nothing comparable in North Africa and in Morocco. You were really filling a huge gap that the government didn't have in place.
OL
Everything starts for a reason. When we launched the Foundation, and all the projects and programmes that we've developed, it was because there was a huge lack, not only of infrastructure, but also a lack of expertise and spaces, to give a voice to people and artists. For me, our main goal was to build a public. At the beginning it was hard bringing people into the museum and giving them a purpose to join us. We were determined to be very accessible, so we put all our efforts into mediation programmes and educational programmes. MACAAL is a bridge between local audiences and the cultural spheres;
we organise workshops and work with associations, schools, universities, artists themselves to create a bridge to access the arts, to bring awareness and generate engagement for the youngest crowds. It is an amazing thing to see how these programmes actually evolved because now we have a museum but we still have the same schools that we've been working with for the past eight years coming to our programmes and applying to them. I'm very happy to see how we became a point of contact for many of these youths, because they meet in our museum, in our spaces, go to the gardens together, and bring their families back. This was a huge accomplishment, especially thanks to Moroccans' hospitality and Moroccans' kindness.
That was a part of our history, and it's still going on.
AL
Absolutely, I know from a similar experience working at the Centre Pompidou in Metz, that when you start a new cultural endeavour in a place that doesn't have that in their day to day, the museum needs to be an open space, a democratic space, where people feel like it's their home in a way. Another of your key programmes is the Lcc photography prize, can you tell us about it?
OL
The Lcc Program, which stands for La Chambre Claire, is an annual photo contest that we founded with Meriem in 2013. This programme started very naturally through my passion for photography, after I met with a few photographers and became friends with Leila Alaoui. Photography is our generation's medium and at the time, there was no infrastructure for photography so we decided to dedicate a contest for emerging African photographers. We also support other initiatives through the same platform in Morocco and internationally; we will be part of the Lagos Photo Festival and the Tangier Photography Meetings, for example. Lcc is now an important programme on the continent.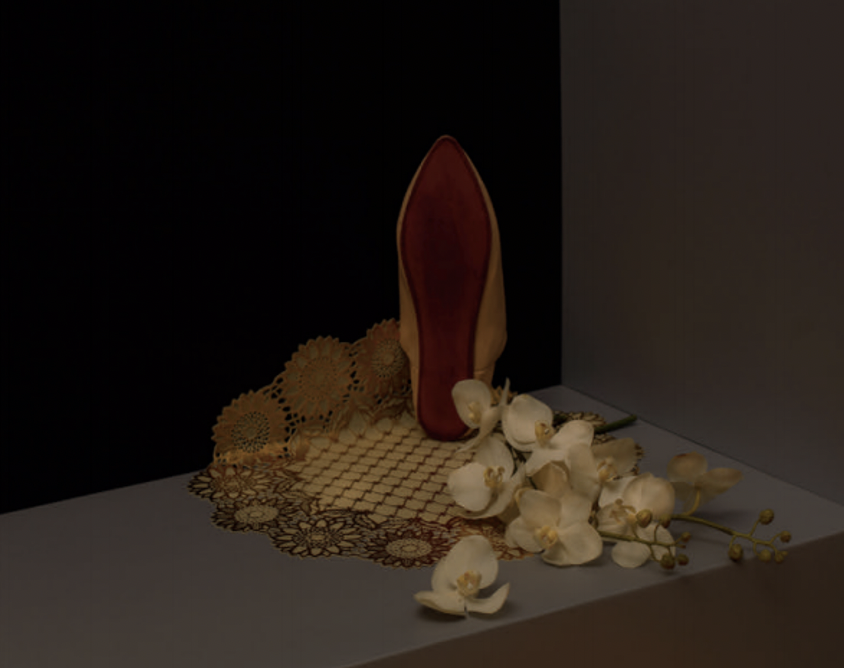 AL
Lcc is recognized as a stepping stone for artists. It produces work, offers winners shows, catalogues, there's a lot of opportunities for these artists to grow their profile and to develop further institutional recognition. How do you feel about the transition from a personal passion to having public impact?
OL
We started by inviting an international jury composed usually with an artist, a gallerist, a journalist, a curator, to bring all the intellectual minds together so we could be objective in the selection. Also, the call for applications would go through all our networks and we would receive around 300-400 applications, it's a hard game to play, we have to be very selective. One year an award wasn't given because it wasn't a good year.
We are very selective! Maya-InèsTouam was our latest winner, right before COVID, she's a rising star. She has been in great exhibitions internationally, and we continue to support her work. She creates these massive photographs of still life. The 20th century re-visited!
AL
As a collector, how do you navigate between trusting your instincts for talent and considering other criteria (popularity, museum collections etc...)? Do you have a similar approach when you are on a jury?
OL
I think they're very similar. I'm a collector, by heart and by passion, but an expert and a collector have the same artistic eye. I would judge a piece as if I was going to buy the piece. However, I do consider some criteria, it's part of the process for a collector as well as within the jury.
AL
MACAAL opened in 2016, could you please tell us the story of how it was inaugurated?
OL
The inauguration of MACAAL was a response to this lack of infrastructure. We wanted to create a space that would simulate and become a home for our collection. We're not only a museum, we're more like a living platform, a space which promotes exchange and sharing. The museum arrived very late, because we really wanted to make the museum a place that would be firstly dedicated to our collection, but also dedicated to the creativity of our region and the continent. In 2016, Marrakech was already an international hub in contemporary arts and culturally, but also a tourist hub. I like to think we've opened the doors of our home. We have a saying in French, where we say, "tell me where you live and I'll tell you who you are." We are the reflection of our architecture.
Opening our doors, operating our home to a wider audience wasn't something any Moroccan would think of, I think we were the first ones to open a not for profit space for art, for artists, to promote and to engage with the public. We have an ambitious programme that includes two to three exhibitions a year and also, of course, important exhibitions where we invite guest curators to work within the context of MACAAL.
There are actually more than 2,000 works in our collection, we have more or less 2,500 works, but I think 500 are dedicated to MACAAL, which are more museum oriented, and either historical or impactful for the context of the MACAAL. We don't necessarily collect African art, of course, it's part of our identity but we've also been collecting art from South American artists, Southern Asian artists as well, now I'm interested in focusing on emerging American artists. My dad was the first to start the collection 45-50 years ago,
it was mainly paintings, we started with the orientalists and then Moroccan modernists.
"I'm a collector, by heart and by passion, but an expert and a collector have the same artistic eye."
AL
So out of your very vast collection, we have decided to highlight 5 artists today. If one wants to look at the other 2,495 that are not mentioned, they do appear on your website for those who want to dive into the collection.
Can you talk first about Leila Alaoui?
OL
Leila was a friend, probably the first person I was close to whenever I came back to Morocco. Leila is an artist that passed away a few years ago, it was the year actually when MACAAL was founded. She died in a terrorist attack in Ouagadougou, where was working for UNESCO and this series was the first ever shoot that she did for her very famous series, The Moroccans. I was with her the day she left for the mountains and when she came back, she was showing me these works on her camera.
It was probably one of the first photographs that I ever bought. I like to say they're vintage because they're very small, you can't find these kinds of sizes now, they're unique pieces.
They're beautiful and they remind me of Leila.
AL
There was an exhibition of her work recently in London at Somerset House and they were beautiful works.
Moving on to our next artist, let's talk about Joy Labinjo.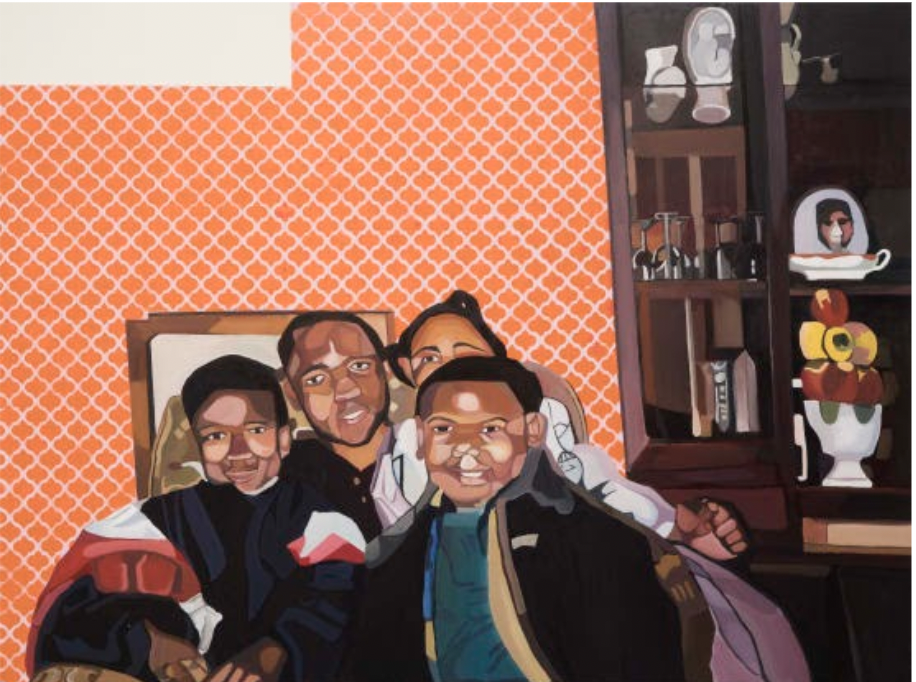 OL
Joy is a British-Nigerian artist, I discovered Joy's work at 1-54 in London. It was probably the first time she was exhibiting in 2018 and it was probably one of her first few pieces. I loved the work because it reminds me of my family the first time I saw it, I was like,
"Oh my god, it's me, my sister, and my brother." Joy is now a rising star, she's probably one of the great discoveries I've made. She discovered a family photo album a long time ago and all her paintings are actually these intimate scenes of her family life, its stolen moments of her life. I love the fact that they're very large canvases, and the bright colours are very joyful. We currently have two in the collection, that was a purchase we acquired recently, we're very proud to have them in the collection.
AL
It's also wonderful that she is based in London, so we have another opportunity to discover her works here locally, as a global rising star.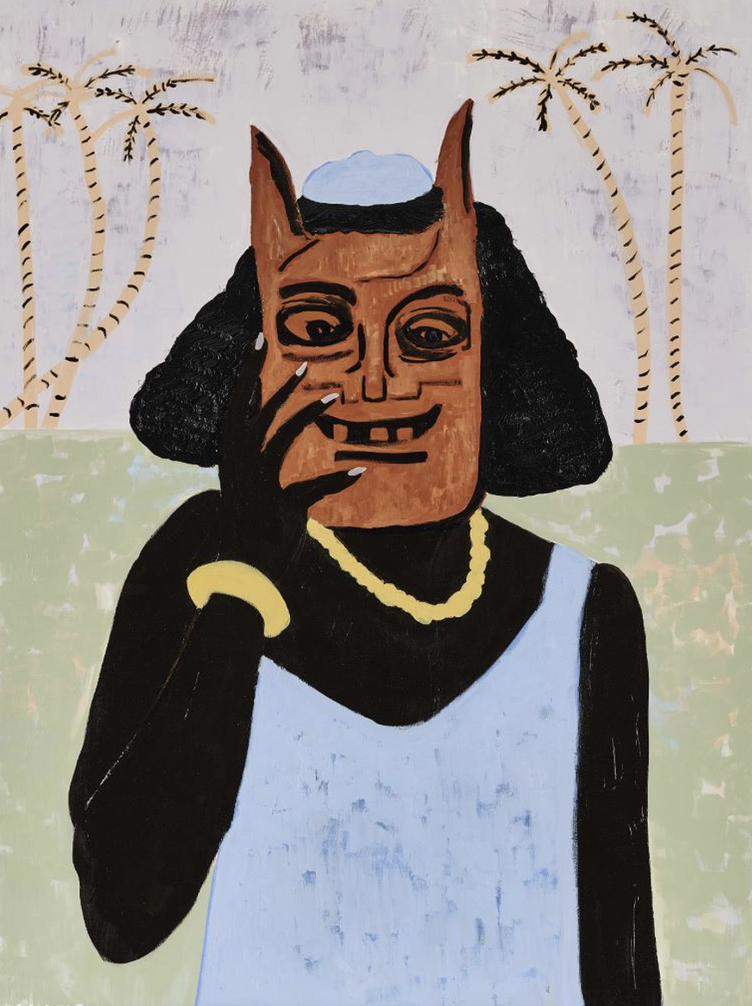 OL
This is the same for Cassi as well! Cassi Namoda is probably one of the highlights of my year. She's a painter from Mozambique, I knew her from her performances, I've been following her on Instagram, she has a very strong following. I love that she really explores the social dynamics in the countries she lives in, she explores issues such as racial identity, usually in more figurative paintings. This is probably one of the only pieces where you cannot see a face, which is why I went for that one specifically. It's one of our latest acquisitions and it has very beautiful colour palettes, it's very elegant.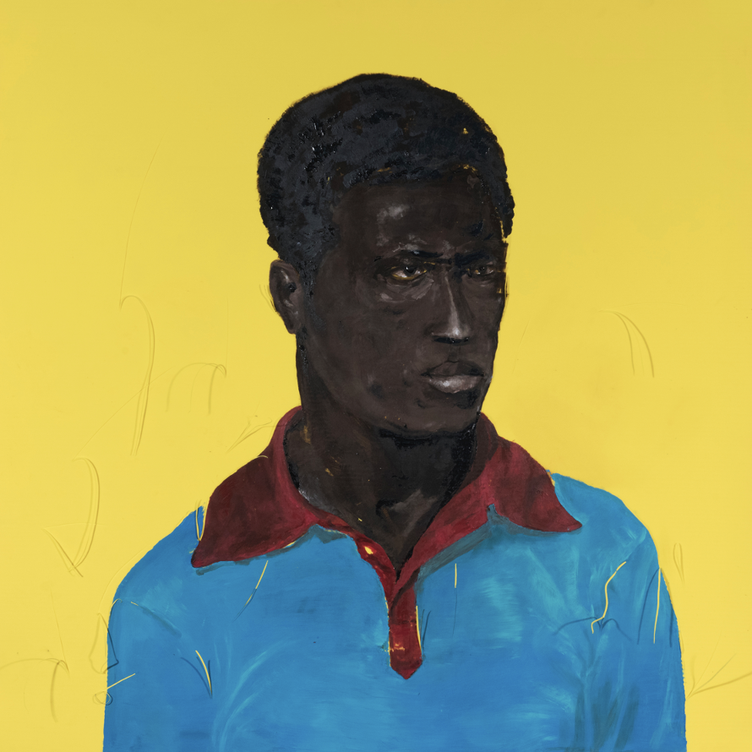 AL
Can you please tell us a little bit about M'barek Bouhchichi?
OL
Besides being a very close friend, he's a great person, probably one of the most talented human beings I know. He's Moroccan, born in the very deep south of Morocco.
He's a teacher, an artist, he really has this very sensitive and aesthetic sense that you can feel in his works. Looking closely at his approach really gives you a better idea of how Moroccan culture evolves. M'barek's work is also very conceptual and has lots of layers of understanding through different techniques, and he's not closed to one technique.
It's always evolving. He would use copper, he would use brass, he would use paintings, rubber. He's a true poet, his work was based actually on this Black Moroccan poet who wrote on what's happening in the south in the situation of minorities in Morocco.
It's a very intimate approach and very sensitive.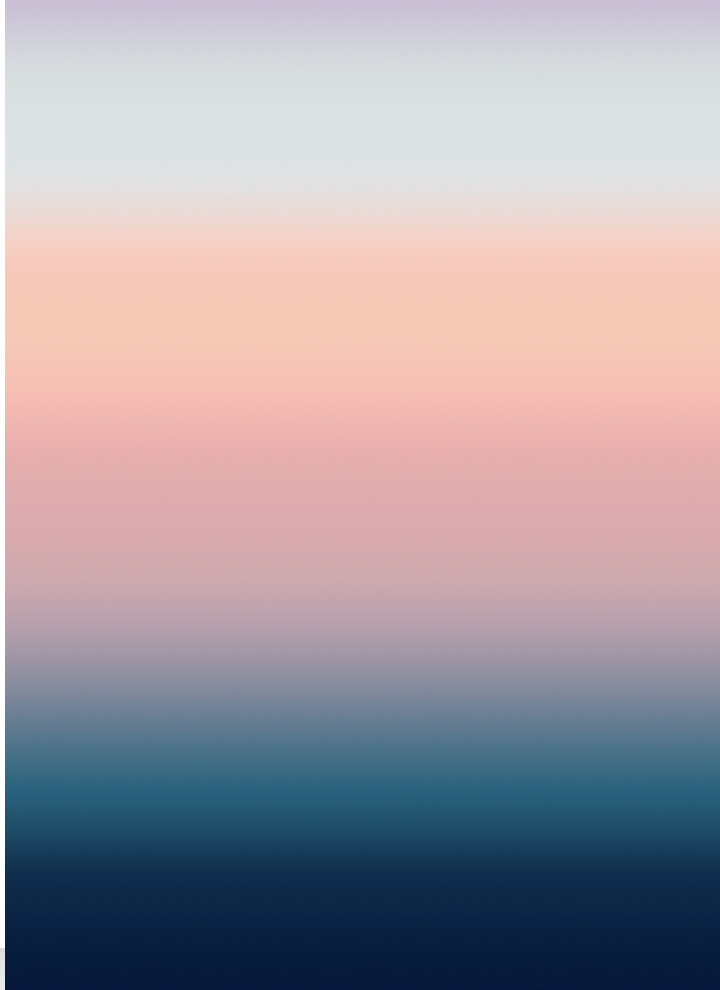 "I've always grown up surrounded by art.
I see this as a beautiful transmission that my dad gave me."
AL
That's absolutely wonderful. Our next artist is Mustapha Azeroual.

OL
Mustapha is also a friend, he's French-Moroccan artist. He's now based in Paris, but we worked with him on many different projects and have many of his works in the collection. He plays with sound and all the senses, bringing a very scientific approach to his works. This work is called "Radiance", it is made up of five sunsets and sunrises in one photo. The tree that we also have in the collection is made of porcelain.
The porcelain plates touch each other whenever there's a little bit of wind, it's a delicate work which creates this beautiful music, exactly as if you were outside underneath the tree and you would hear the wind going through the leaves.

AL
Thank you Othman for sharing your ambitious and inspiring journey, which is still very much unfolding. I can't wait to visit MACAAL again and best wishes for your forthcoming projects!