Sofia Mitsola Studio Visit
In collaboration with The Cultivist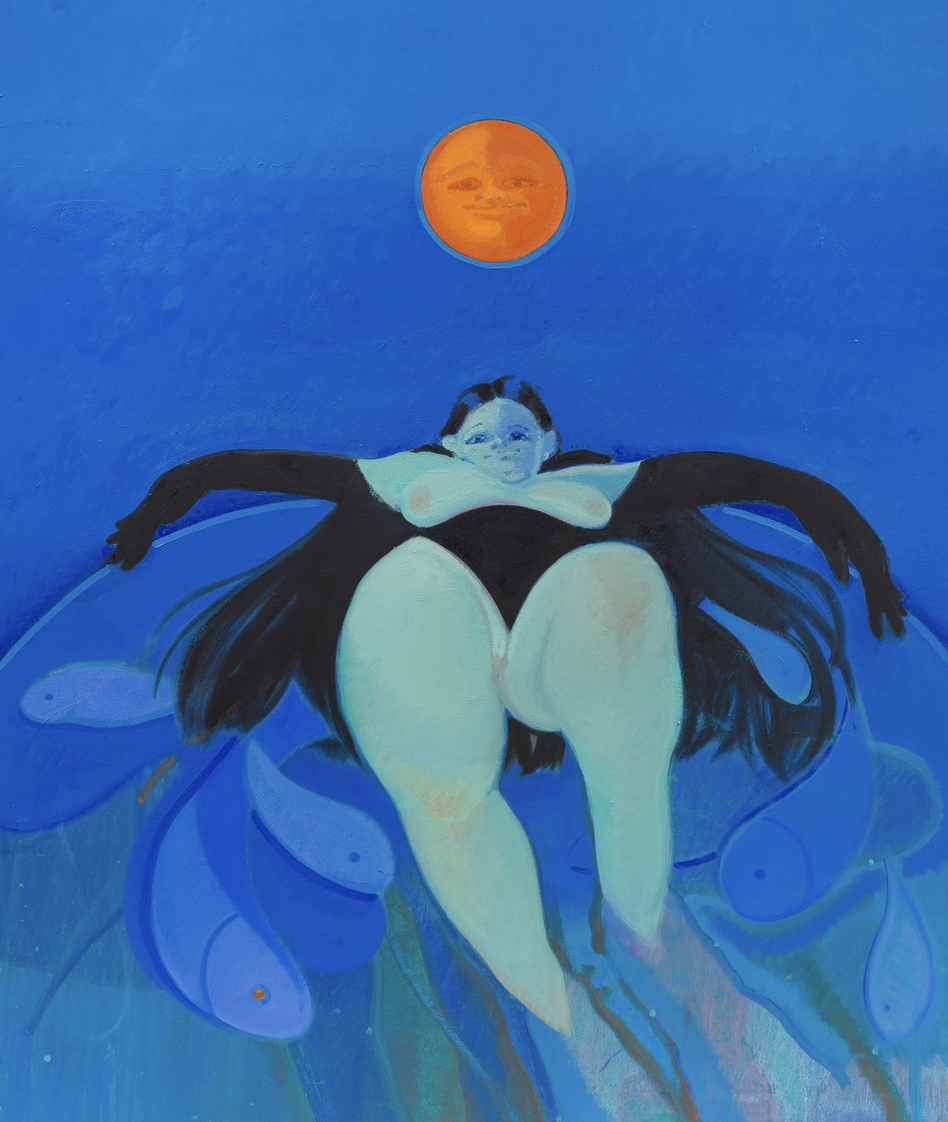 We are delighted to be invited into the studio of enchanting artist, Sofia Mitsola. On the (reptilian) tails of her recent exhibition at Pilar Corrias, Aquamarina: Crocodilian tears, the artist has received well-deserved acclaim and even spotlighted by Flora Yuknovich as an inspiring talent. Mitsola's works are fantastical, magical and yet enigmatic. Her scenes and protaganists are inspired by Greek mythology, taking on a life of their own within the canvas. Mitsola herself says her figures can be protective forces, yet "if you stand against them, they become your worst nightmare."

The female body is a critical theme of Mitsola's work, used as a painterly device to challenge narratives that the audience may be familiar with to the female body in the artist's own terms. Classical sculptures at the British Museum inspire Mitsola's larger than life characters, all of which embody a sense of direct and immediate power, engaging the viewer at every turn.
"My figures are imaginary and constructed over a long period of time…they are related by blood with the sphinxes and sirens I have made in the past."
Sofia Mitsola (b. 1992, Thessaloniki, Greece) works primarily with paintings in which she investigates the female form. Her invented characters are informed by ancient Greek and Egyptian sculptures, usually depictions of goddesses or mythical creatures.

These are set in simple geometric backgrounds with intensely bright and almost flat colours and are depicted naked and larger than human scale. Through them, she is playing with ideas about voyeurism, confrontation, and power.
Mitsola received an MFA from Slade School of Fine Art, UCL in 2018, and holds a BA from the School of Visual and Applied Arts, Faculty of Fine Arts, Aristotle University of Thessaloniki, Greece.

Recent solo exhibitions include: Aquamarina: Crocodilian tears, Pilar Corrias, London (2021); Darladiladada, Pilar Corrias, London (2020); Banistiri, Pilar Corrias, London (2019); Jerwood Solo Presentations 2019, Jerwood Space, London (2019).

Her recent group exhibitions include Jean-Marie Appriou, Amy Feldman, Louisa Gagliardi, Kris Lemsalu, Conny Maier, Sofia Mitsola, and Tobias Pils, Galerie Eva Presenhuber, Zurich (2022); A Year With The Jerwood Collection, The Harley Gallery, Nottingham (2021); and dreamtigers, 125 Charing Cross, London (2019). Forthcoming solo shows include Sofia Mitsola: House of Aquamarina, The Harley Gallery, Portland Collection Museum, Worksop (2022).

Mitsola was awarded the Tiffany & Co x outset Studiomakers Prize (2018) and the British Institution Student Award by the Royal Academy of Arts, London (2018). Mitsola currently lives and works in London.