SPRING NEWS
This spring we have an action-packed season to bring to your inbox. We are delighted to share our collaborations with leading artists and collectors, inspiring exhibitions, and some very exciting upcoming events.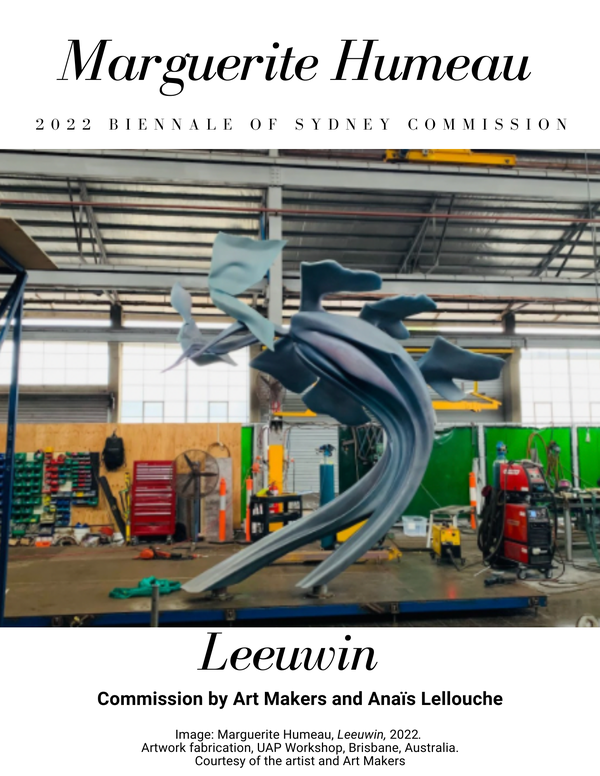 We are delighted to announce our co-commission with Art Makers of Marguerite Humeau's major sculpture Leeuwin for Rīvus – the 23rd Biennale of Sydney. For this project, we worked with the artist from conception to production and soon to be installation. We forged a partnership between Marguerite Humeau, the Biennale of Sydney and Art Makers to create what is one of the artist's most significant pieces to date.

Marguerite Humeau's Leeuwin was locally created in Australia using 100% recyclable aluminium and stands at 3.70m tall, as the largest piece created by the artist.

Click here to read more about Leeuwin and the inspiration behind the work in this exclusive artist interview.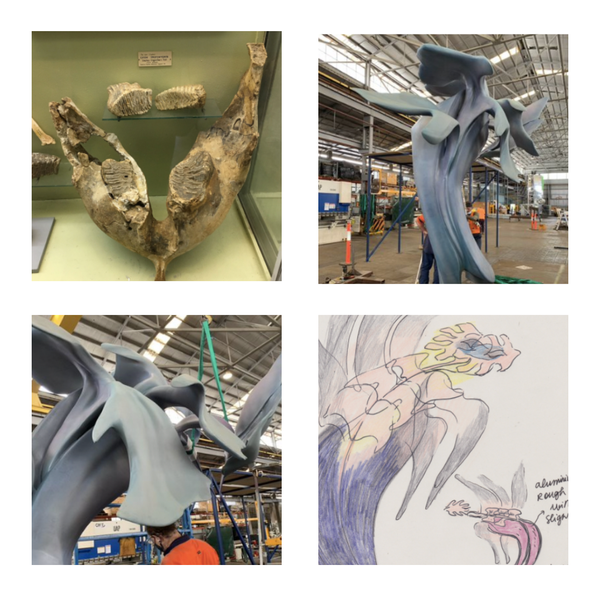 Anaïs Lellouche
We're here to talk about Leeuwin, one of the largest sculptures you have created to date, which we commissioned with Art Makers and will be unveiled at the Sydney Biennale 2022. From research to collaboration and production, how do you start creating a work such as this?
Marguerite Humeau
I really try to encode my projects into very specific contexts and landscape environments.

What are the oral traditions? What are the mythologies? What are the mental landscapes that humans have and how do these project onto existing realities?

This specific commission is for the Sydney Biennale and I chose to explore the role of currents in our ecosystems, how climate change is affecting ocean currents and the literal and conceptual impact of these transformations. I was thinking about this topic broadly as well as in the specific context of Australia. I decided to extrapolate on the idea of a wave, thinking about transformation, flow and about currents.

I wanted to create a "being" that exists in this state of transformation. I imagined a form that seems like a wave or a current, transforming into some form of whale and in turn, transforming into a seaweed. I thought it would be interesting to use these shapes and to make it feel like the wave is becoming the whale and the whale is becoming seaweed.

At the same time, it becomes human because it looks like it's standing on two legs. Like a mythical creature, this "being" gathers all these different spheres into one, its existence oscillates in between these different states of being. I did a lot of sketches for this work, from study sketches to sketches of whalebones and seaweed and slowly starting to bring them together. Once I had all the sketches, I connected them and decided on forms that evoked my idea then I sent it to one of my collaborators, a 3D designer who translated the sketches into a 3D form. 3D modelling is an amazing craft, because it's all digital and is really refined.

How can we get this mythical being to actually stand on its two feet? That's another challenge.

Because it's supposed to behave like a wave, a lot of engineering had to be done to preserve the illusion that it is moving forward, standing tall but at the same time, being light.

JOIN US LIVE WITH OLIVER BEER FROM ROPAC IN SEOUL
Friday 29 April 11am BST (7pm Seoul)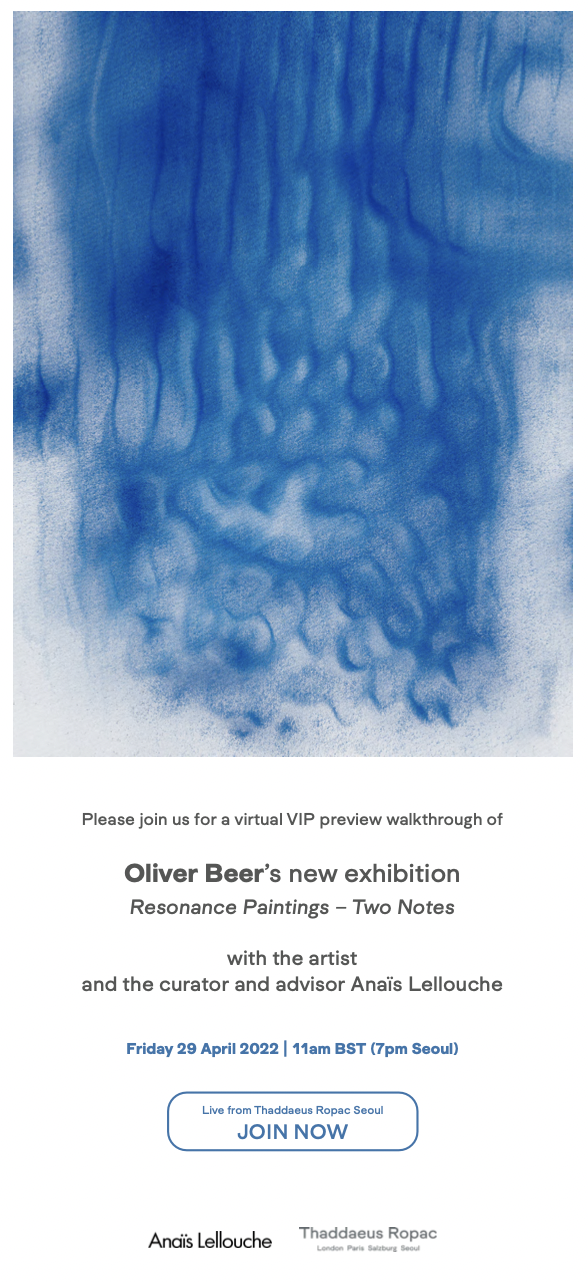 Friday 29 April I 11 am BST (7pm Seoul)

Experience first-hand new sound works by Oliver Beer, one of today's most acclaimed contemporary artists.

Contact us at: hello@anaislellouche.com for more information.
OLIVER BEER AT THE VENICE BIENNALE
We are hosting a talk with Oliver Beer at the Conservatory in Venice in collaboration with The Cultivist from 6.30 – 7pm on the 21st April with a private walkthrough of his installation, Little Gods in Venice. Oliver Beer is a world-renowned visual artist and composer who works across the fields of visual art, performance and musical composition to create monumental performances, artworks and installations.

Contact us at hello@anaislellouche.com to register your interest for the event and for more information on this long-awaited installation by the artist.

LONDON GALLERY WEEKEND EXHIBITION TOUR
After the roaring success of last year's inaugural edition of London Gallery Weekend, this year proves to be another incredible testament to the success of the initiative. London's galleries will open their doors once again offering an insight into the remarkable artists whose works are being shown in this wonderful city. With major institutions taking part, London Gallery Weekend proves to be a celebration of art, culture and creativity.
Join us on the 14th May, when we will be leading a delegation of collectors and members of The Cultivist on an eye-opening and intimate tour of London's most renowned galleries.

Contact us at hello@anaislellouche.com to register your interest for the event and for more information.
INSPIRE ART AWARD
2023 – 2024

We are honoured to announce the INSPIRE Art Award. We have co-founded this award with Katarzyna Grabska, the senior researcher at the Peace Research Institute Oslo (PRIO).
The INSPIRE Art Award is a contemporary art prize encouraging and supporting artists working across disciplines of contemporary creation, whose practice is or has been affected by violent conflict.

We are launching a fundraising campaign to support the award through the consignment of artworks by established artists who have experienced war and violent conflict. The proceeds of which will support emerging artists whose work are affected by these circumstances and to inspire audiences through artistic production.

Click here to visit the INSPIRE website for more information.

Stay tuned for further announcements of partnerships of the INSPIRE Art Award and participating artists, including Hangama Amiri, a multi-disciplinary artist whose practice draws on lived experiences from Afghanistan, Canada and the US. Amiri's work spans across various media, including painting and textile which she uses to examine the daily lives of women in Afghanistan.

Scroll down for an excerpt from Hangama Amiri's interview with Katya Conrad, where she speaks about her practice, inspiration and views on how art can be a beacon for cross-cultural dialogues.

Click here to read the full interview on our website.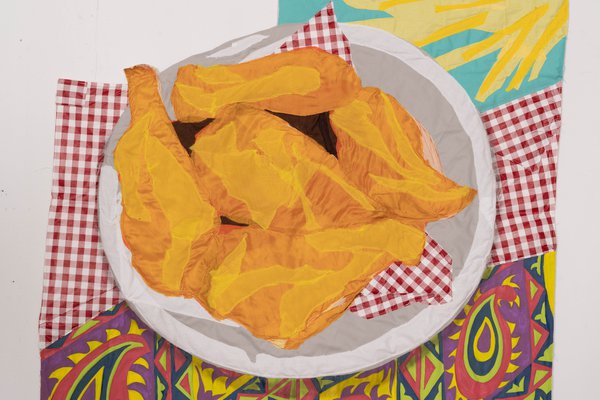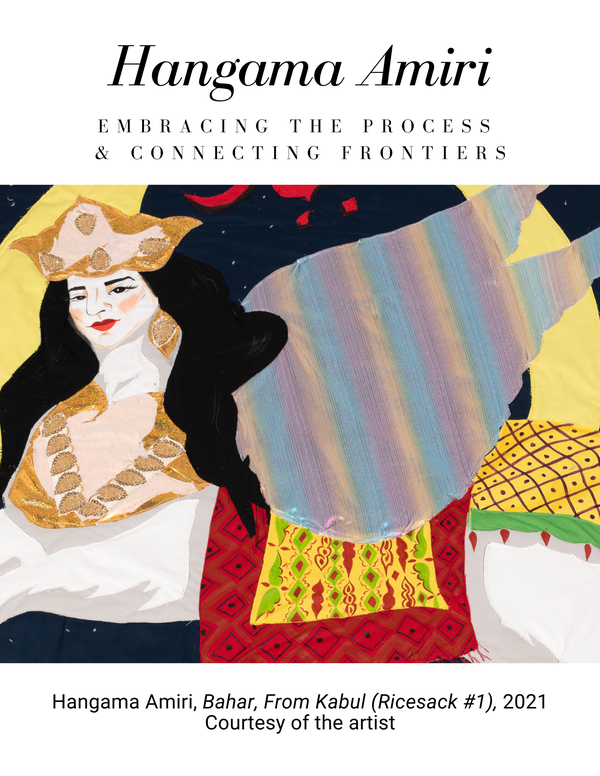 Katya Conrad
How do you think art can help to bridge cross-cultural dialogues?
How have your experiences living in Afghanistan, Canada, and the US, influenced your creative process and view of art-making as a whole?
Hangama Amiri
For me, art in its most ambiguous body always has a certain visual power that carries the understanding of cultures and history. Making art or creating an object that shares stories is where cross-cultural dialogues can happen.

Art shortens the distance between people, cultures, and communities; it helps us learn, feel and express certain things that cannot be done through other forms of language.
In my textile pieces, I think a lot about the word 'frontier.' Its cultural, historical, and linguistic connotations inspire me to make my practice a way to connect the two worlds—The East and the West, in the context of this question. Connections can simply start with learning. Creating something that gives us access to learn about a culture or a history through an ordinary object, signage or words is my way to bridge the cross-cultural dialogues.
My own experiences of migration and immigration and experiences with different cultures, traditions, histories, and languages support me to create those "frontiers" to connect them. At the same time, they open up spaces for myself to dive back into these experiences, to re-explore their relationships to my understanding of the world.
The "frontiers" are also reflected in my decisions of the fabrics or textiles I choose for my work for the cultures, tastes, or aesthetics they may represent.
NEW ACQUISITIONS
From Dubai to Athens, Paris to London, this spring we have been fortunate to collaborate with leading collectors to place major works of art in their collections.

Each collection is unique and reflects the collector, the artist and their kinship. We strive to present our clients with artistic discoveries that are inspiring and valuable.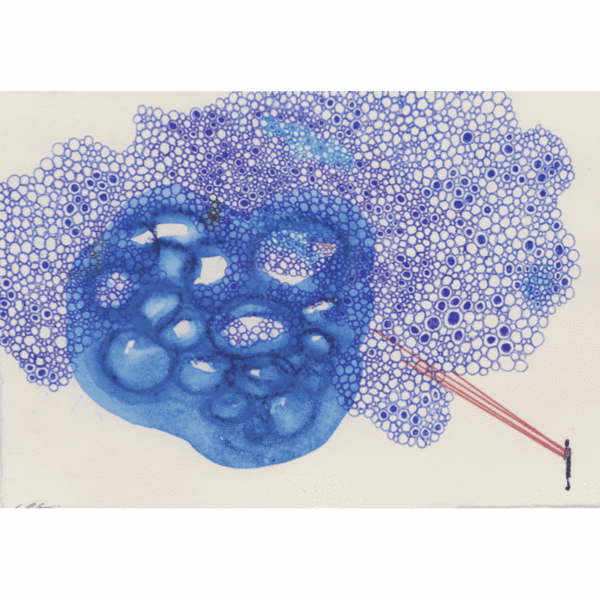 IN CASE YOU MISSED IT
BIENNALE OF SYDNEY MASTERCLASS
IN COLLABORATION WITH THE GUEST CLUB AND THE CULTIVIST
Rīvus – the 23rd Biennale of Sydney, curated by Artistic Director José Roca and his team, is now on view. We gave a talk for The Cultivist and the Guest Club outlining a few of our highlights from the Biennale, including Ackroyd & Harvey, Dr Alexandra Daisy Ginsberg, Tania Candiani, Leeroy New, Hanna Tuulikki and many more.

We want to extend a huge thank you to all the artists who shared their works with us and we were delighted to present the works to our communities.
We were particularly delighted to support Jessie French's ambitious presentation at the Sydney Biennale, across major venues including The Cutaway and The National Art School, on view until the 13th June.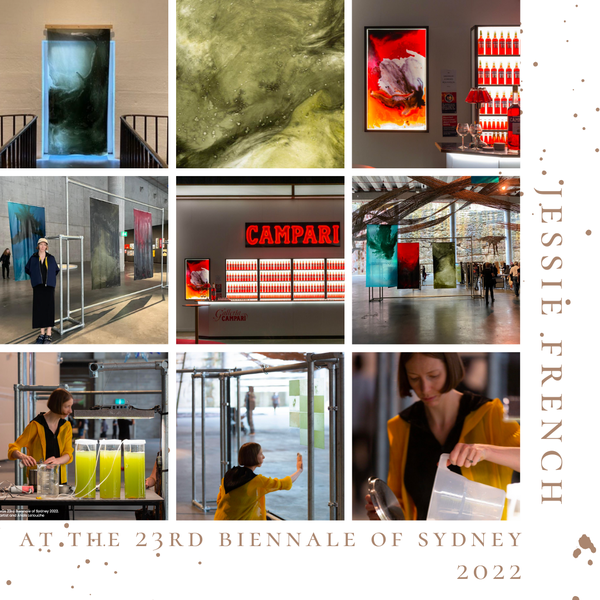 ART ICON AWARD 2022
Tracey Emin was awarded the 2022 Art Icon by Whitechapel Gallery! It was a memorable opportunity to see Whitechapel Gallery's 100-year survey of the artist's studio in their latest exhibition, 'The Artist's Studio: 1920 – 2020'. After working on this exhibition for 5 years, outgoing Director Iwona Blazwick has produced an insightful journey into the private world of the artist's studio.
MODERN FORMS COLLECTION VISIT
IN COLLABORATION WITH THE CULTIVIST
We were thrilled to host an exclusive visit of the Modern Forms collection at Floreat House in collaboration with The Cultivist. From Douglas White to Martin Creed and Ibrahim El-Salahi, it was inspiring to see the works in person and gain insights from collector Hussaim Otaibi on his journey and collection curator Nick Hackworth as well as artist Douglas White.
Modern Forms is widely engaged in supporting public institutions through commissions, loans and gifts of major artworks.
Their commission with Sophia Al-Maria, taraxos, is on view at the Serpentine Galleries until 24 April.
Click here for more information.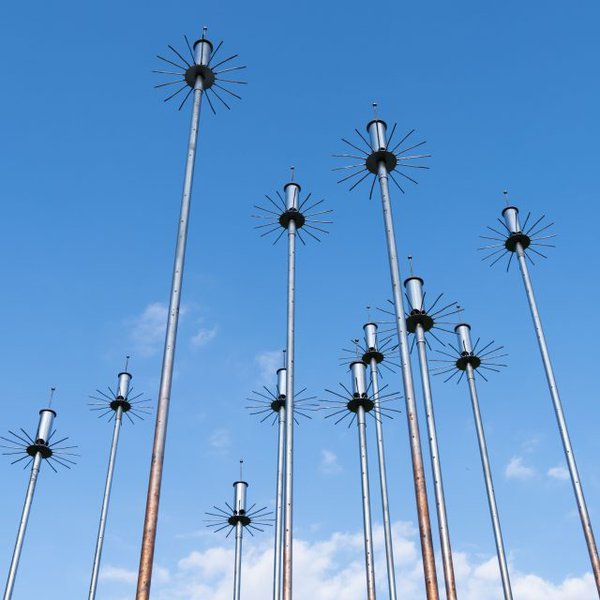 AND FINALLY...THE SUBJECT ON EVERYONE'S MIND: NFTs!
We invited Alana Kushnir, Founder and Director of Guest Work Agency, Australia's first dedicated art law and advisory firm, to speak about NFTs (Non-fungible tokens).
Alana is an experienced speaker on the subject of NFTs, as well as an advisor to numerous art tech startups working in the NFT space, this interview is a must-read for anyone looking to understand NFTs.
Click here to read the full interview on our website, including a breakdown of NFTs, what they are and how they work.
Anaïs Lellouche
How are NFTs challenging and changing the ways in which artists and gallery spaces operate?
Alana Kushnir
I wouldn't say that NFTs are necessarily changing the ways in which artists and galleries are generally operating, but they are certainly challenging the ways in which art is traditionally bought and sold. Each time an NFT is created (minted) and sold, it is registered on a public, decentralised blockchain. That registration - which is immutable - records when the transaction took place, what digital wallets were used in the transaction, and the cryptocurrency value of the transaction.

This is a game-changer for the mainstream art world, where the prices and dates of sale of artworks are closely guarded secrets held by the artist's gallery.
AL
Would you say it's a misconception that NFTs only impact the digital world? With collections such as the Bored Ape Yacht Club, can NFTs actually also impact interactions within the physical world?
AL
Absolutely, at the end of the day, an NFT is a computer code which enables us to document exchanges of value. In the future, NFT technology will be used in IRL (in real life) to unlock cars so only the rightful car owner can have access, and it will be used in all sorts of supply chains to track goods back to their original source. In fact, many of these more innovative, 'real world' applications of NFTs are already being developed. This is where the idea of the NFT as a 'utility' token comes into play.
With Bored Ape Yacht Club, owners of an ape have been given tickets to live concerts and a party on a yacht. Like many PFP (profile picture) NFT projects, it's not just about owning an NFT of a digital image, it's about gaining access to an exclusive community and benefits.