In Discussion with:
Angela Brandys
Image, Self-definition and Art-making
Angela Brandys interview with Anaïs Lellouche.
Special thanks to Katya Conrad.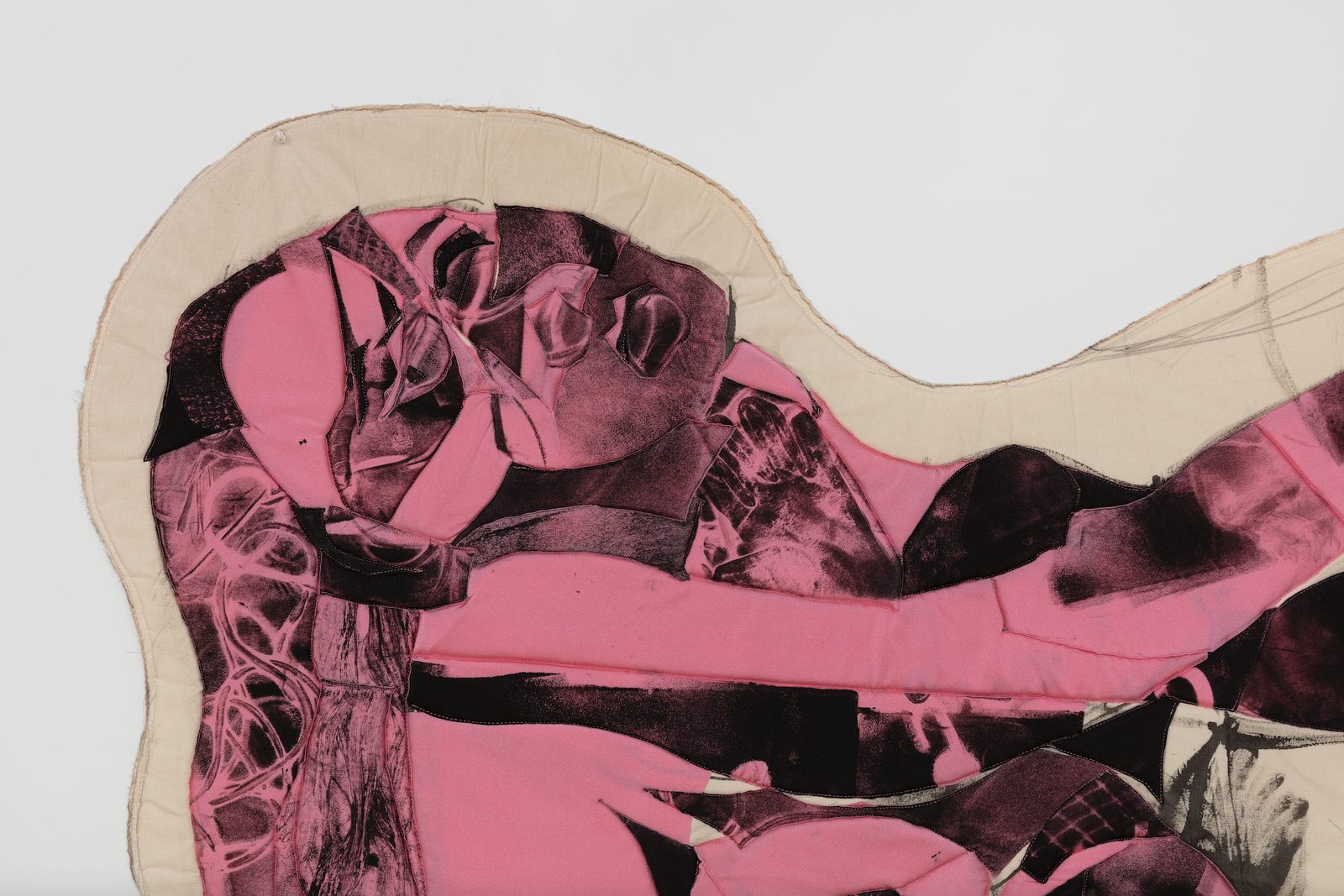 Anaïs Lellouche
Angela, can you tell us about the projects you have going on at the moment?
Angela Brandys

It is a primordial jungle out here in my studio with a few works that are still in progress.

This is Andromeda. "Andromeda" is usually associated with metamorphosis, but I was also influenced by popular culture and figures like Beyoncé, she's an amalgamation of different thoughts that occur over time which grow organically.

I used a printing technique on foam and impressed different elements onto it. I view the works almost as Rorschach tests, because I want the audience to feel like they're seeing different characters in incongruous situations, people really see what their mind reveals to them.
AL
Your process is also very unique, and there's a lot to it.

Your pieces themselves are very generous, they're as much about the process as they are of the complexity of image itself.
AB
With The Statue of Liberty, the association comes with this pose and this connotation of emancipation and goddesses.

I almost wanted to title it Gut Guide because I do like this idea of her as a beacon guiding us through all sorts of bad weather. The patina gives her this richness, and I love the oxidation of copper - the colour green brings me back to the colour of foam.
"Avatars are archetypes, they're not you, but sometimes artists transform themselves and insert themselves as other beings."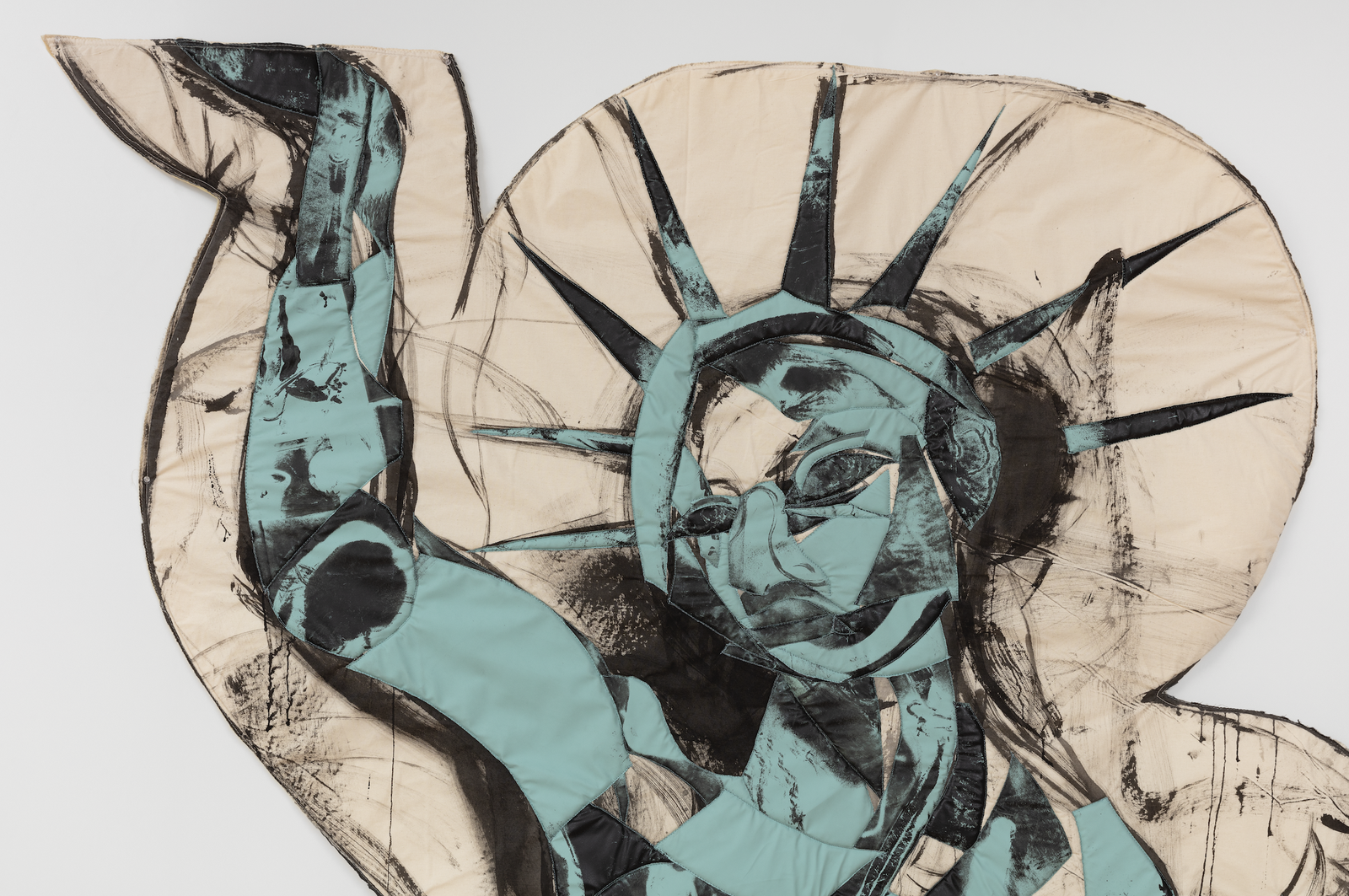 AL
Can you expand a little bit on your
artistic process?
AB
I have these very long bits of lycra that I lay over foam. It's about 5cm deep, and I blacken these objects then just imprint on them. Some are more obvious and figurative, you can see the outlines of a key or a glove, and some become more textural.

When I have these objects, I create negative transfers of them, I put them on the foam, flatten them out and then get the fabric over the top and sandwich the fabric in between with the blackened objects, and then you get this transfer.

I cut them with a rotary blade in a freestyle manner and piece together the fragments. As I put things together they form a picture with these prints and evolve into whatever the print gives way to.
AL
How do you decide to create all these sub-sewings within your work?

Is it a symbolic decision, how do you create?
AB
With Terrain , there were some paintings that didn't work out and I cut them off in frustration, but it actually gave them a new life being able to do that. I would try to draw, create some shade or have a vague idea of what I want to create.

I thought of The Three Graces with tectonic plates moving around and becoming stirred up into each other. I started thinking about how I could cut the fabric in line with the mood as well. It's almost poetic that a single thread could easily be her undoing, because there's also some missing parts to her. It could take the form of a revelation or an opportunity for her to be rebuilt.

Using a rotary blade was groundbreaking for me really, I can move my body like a paintbrush and swirl it around in a way that I couldn't really do with scissors. Here, the movement that came with the particular way of cutting and the way I feel it starts to work around her body gives her this curvaceousness.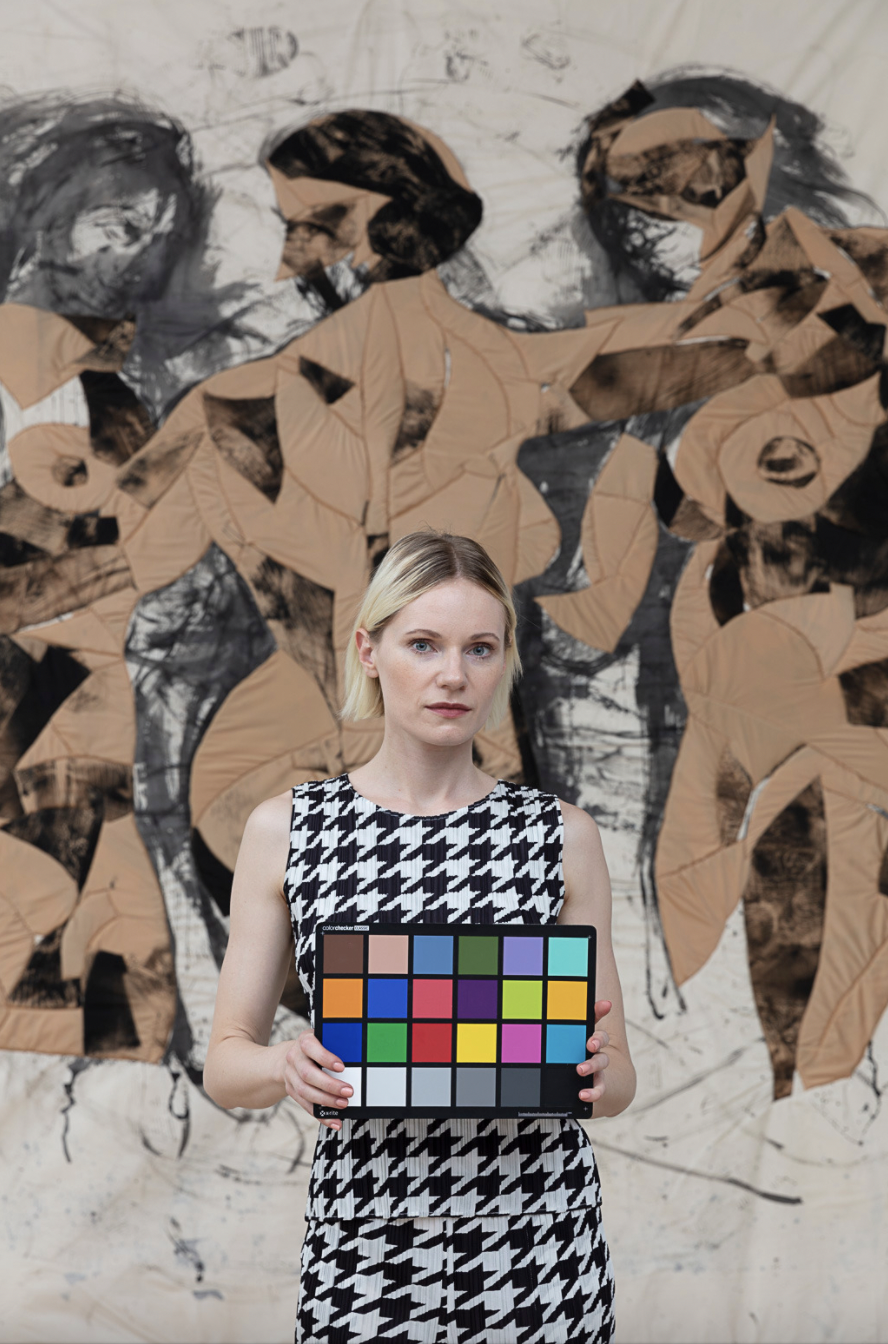 "If I'm looking at myself, for myself and thinking about where my image goes, does this change anything?"
AL
Would you consider these to be self portraits, or an avatar
of yourself in any way?

Do you feel like they reflect your journey in a more personal manner?
AB
It comes down to a borrowed language. When I think about characters and think about paintings that I'm drawn to, it's because I resonate with them in a moment in time, or I feel some way about the story, there's something that just catches my imagination. Avatars are archetypes, they're not you, but sometimes artists transform themselves and insert themselves as other beings.

It's being formed from all these different experiences, moments in time or people I've met, it's all a part of me. I'm not really an individual in the sense that I'm just made up of different bits. I actually enhanced my sense of identity by just being in solidarity with all these other parts and noting them as part of me and my history.
AL
How do you approach your work?

Do you work with a number of these at the same time or wait until one is complete?
AB
Usually I would create one after the other, but there were a couple where I wasn't sure how to proceed. I then put them to the side and come back to them. I would work more with the fabric imprint first, but some of the things I imprinted didn't necessarily correspond to the figure.

As I started to work more and more I started to think about what objects should be put onto a particular woman.

I would just have all this fabric with all of these things printed on it and I just inputted it, and let its meaning be created that way. There are sections where the objects used for printing blocked the ink transfer, creating gaps and breaks in the fabric.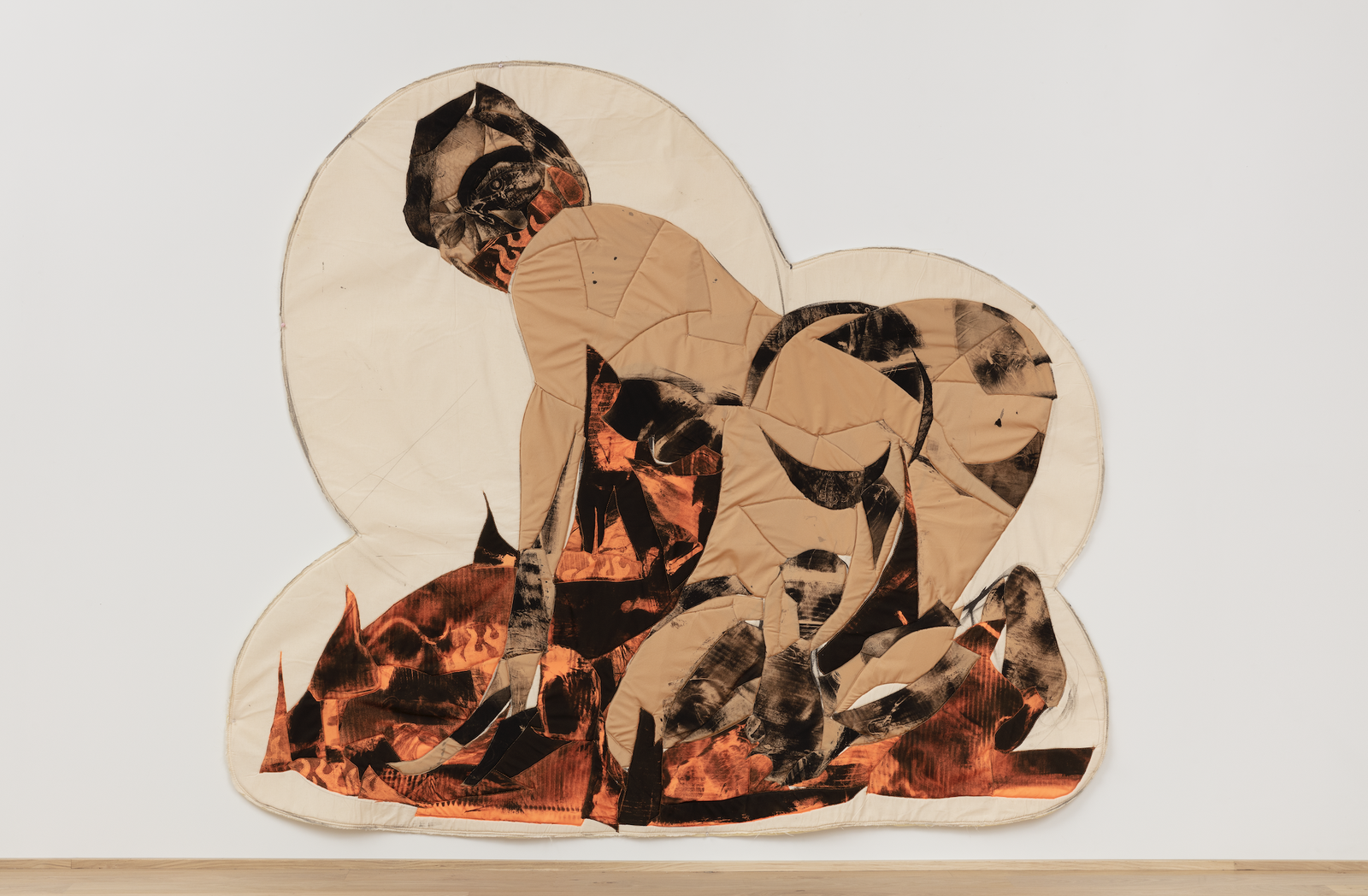 AL
Is there a sense of iconography with these works?

Your father is a minister and you're currently working in Italy, which is a really Catholic context.
How does this idea of sacredness impact your work?
AB
Wherever you go in Italy they have these shrines to the Madonna, the mother, and I've been obsessed for a while with Della Robbia's shrines. I think they're beautiful because they're like puzzles. I love the idea that I might be able to take them apart or somehow move them around. I don't know why I want to do that, but it fits really well with my need to take things apart and recompose them.

In the religion I was raised with, it was very much Protestant/Evangelical, so there's not as much discourse about the mother, they didn't believe in icons and the removal of Mary from the discussion so abruptly is so different to the context here in Italy. My mother passed away when I was young, so I had this missing mother figure in my own life. It's a question of how to pay homage for a part of you that is unknown and that you will never get answers for. I've been trying to do a lot of work this last year, trying to fill in the gaps because I felt like that's been a very important part of my journey, and finding healing, trying to find a sense of identity in areas I hadn't fully addressed.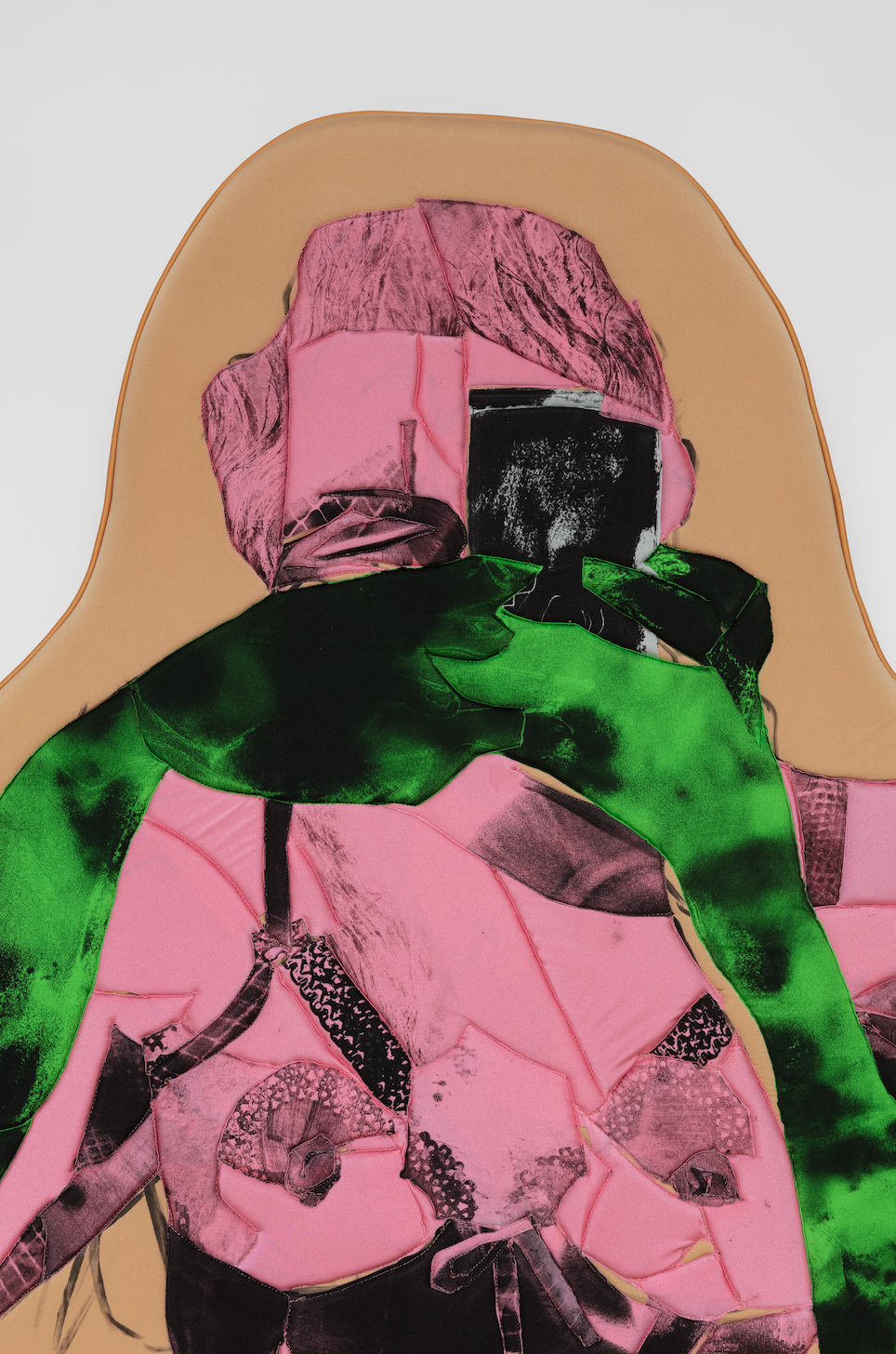 AL
I think the choice of piecing things together with this process that you're using has a very strong connection to psychology, that you're trying to forget that fragmented identity, the fragmented lost memory.
AB
I first started doing that positively when I had these photos of my mother that I found climbing in these mountains in Poland. I didn't really know who took them or where she was. I remember trying to get these photos and inserting them into these old textbooks from the 1970s that had these mountain ranges within it, trying to figure out where the lines match and where she could be. That's a way of working that hasn't really left me, and always involves this search for answers.

My attitude has also changed a lot because my work is a little more soft towards femininity and also embraces it a bit more. There's certainly an embrace of sensuality, the sculptures are more unapologetic. With Terrain, I really think of the theme of women as objects of desire.

How does a woman get to own her desire? Is she performing for herself, if so, does it make a difference?

If I'm looking at myself, for myself and thinking about where my image goes, does this change anything?
I don't have the answers to all these questions but I'm generally thinking about how we get to enjoy ourselves.
AL
Do you have any artists that inspire you, Angela?
AB
I'm actually painting again at the moment, which is bringing me back to look at Old Masters specifically. I'm thinking more about this idea of re-appropriation, about things being the master copy which becomes a borrowed language. I've always loved copying, there's something about playing such close attention to the elements of an image and finding your own way around it. If I can get something out of it, I can see what it can be. As I've been doing that I got the idea for my own arrangements.

I'm just trying to give myself permission to do these master copies. There's something about painting, about how easy it comes, how innately beautiful it is, something about sensuality that I have been fighting against in the past.

The Three Graces is actually based on a Rubens painting. I drew it out and I had the canvas on the floor first. I taped some brush sticks to my shoes, and danced around it, almost like an initiation of the space. Then I saw what shapes it would give me, like tearing the corner of a perfect blank page - you are somehow able to launch in more readily. It suddenly feels less intimidating. Then I just started using the fabric again, to draw up the image from the painting.

There's some textural parts from these trousers that ripped, which I used in the printing and gave a nice impression. I kind of love the way that it's puckered up a little bit once sewn. What I love about it is that it's very forgiving and unforgiving at the same time. You can get real detail with it when you print with it but you can also ease it in and stretch it out to cover your compositional needs.

There might be something about there being three women in it, too. I think the singular women in the shapes that they are, gave off this idea about really resisting the container or the square, wanting to just be free and to be orientated at will, bleeding into one another, in a way.
"The drawing and printing happens very quickly in a burst of energy as separate processes."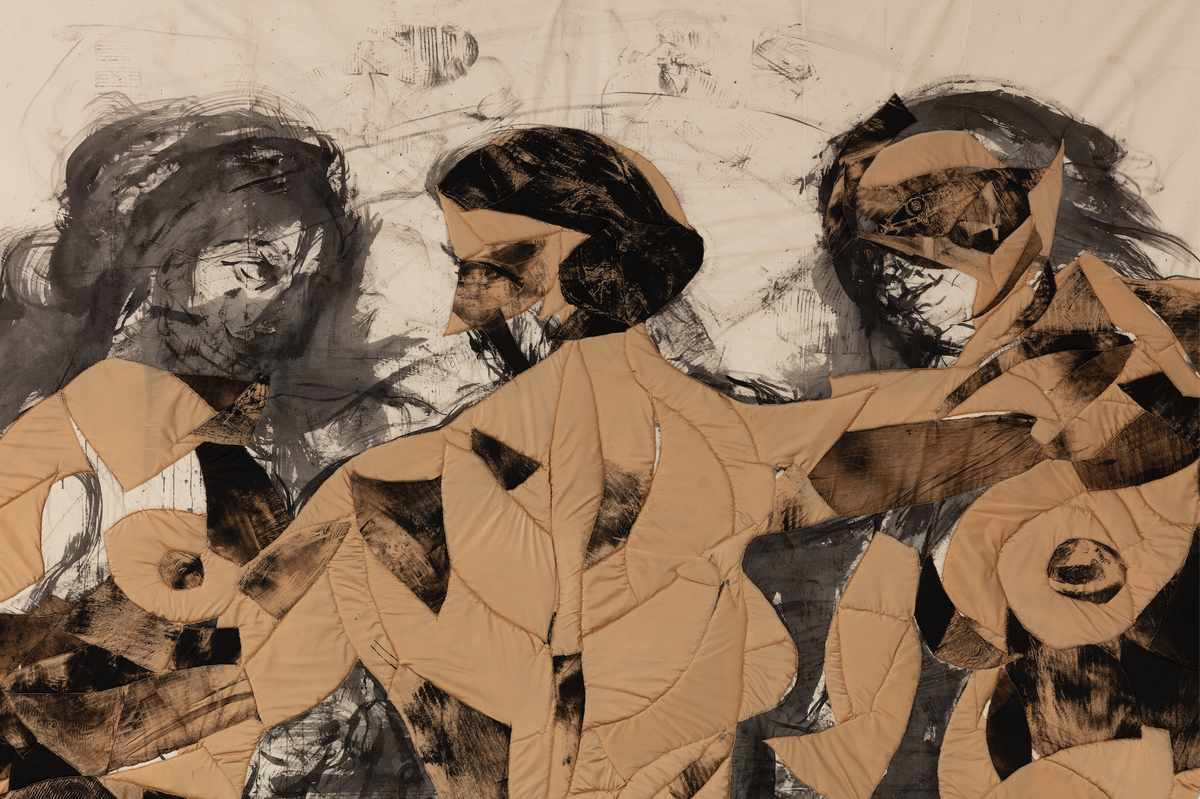 "How does a woman get to own her desire?
Is she performing for herself, if so, does it make a difference?"
AL
Do you feel a clear sign of completion in your works?

When do you consider something to be done?
AB
A lot of my work has come out of this frustration of wondering why it won't stick, why it won't stay the same, why the light keeps changing.
It's becoming this theme in my work that I'm just making my peace with the ever changing flow of everything. I'm not trying to control it or capture it in the same light. I think making something that feels incomplete is starting to become a positive thing.
AL
How does your process change when you're working with 3D sculpture?

You're quite active using a rotary blade in your works, but you're active in a different way when forming these sculptures. How does this change in process affect how you approach your work?
AB
With flat works, I find that I can work on them very quickly. The drawing and printing happens very quickly in a burst of energy as separate processes.

I'm just throwing bits out, reacting to each piece of the work. There's not much deliberation, it's very intuitive. Then, with these sculptures, they're a bit slower in terms of process.

I use insulation foam for the core of it, which begins very small, and then I build out from that, it's hand-sewn. The idea is to create this powerful engine and make something that is uncensored, that challenges your notion of beauty and form.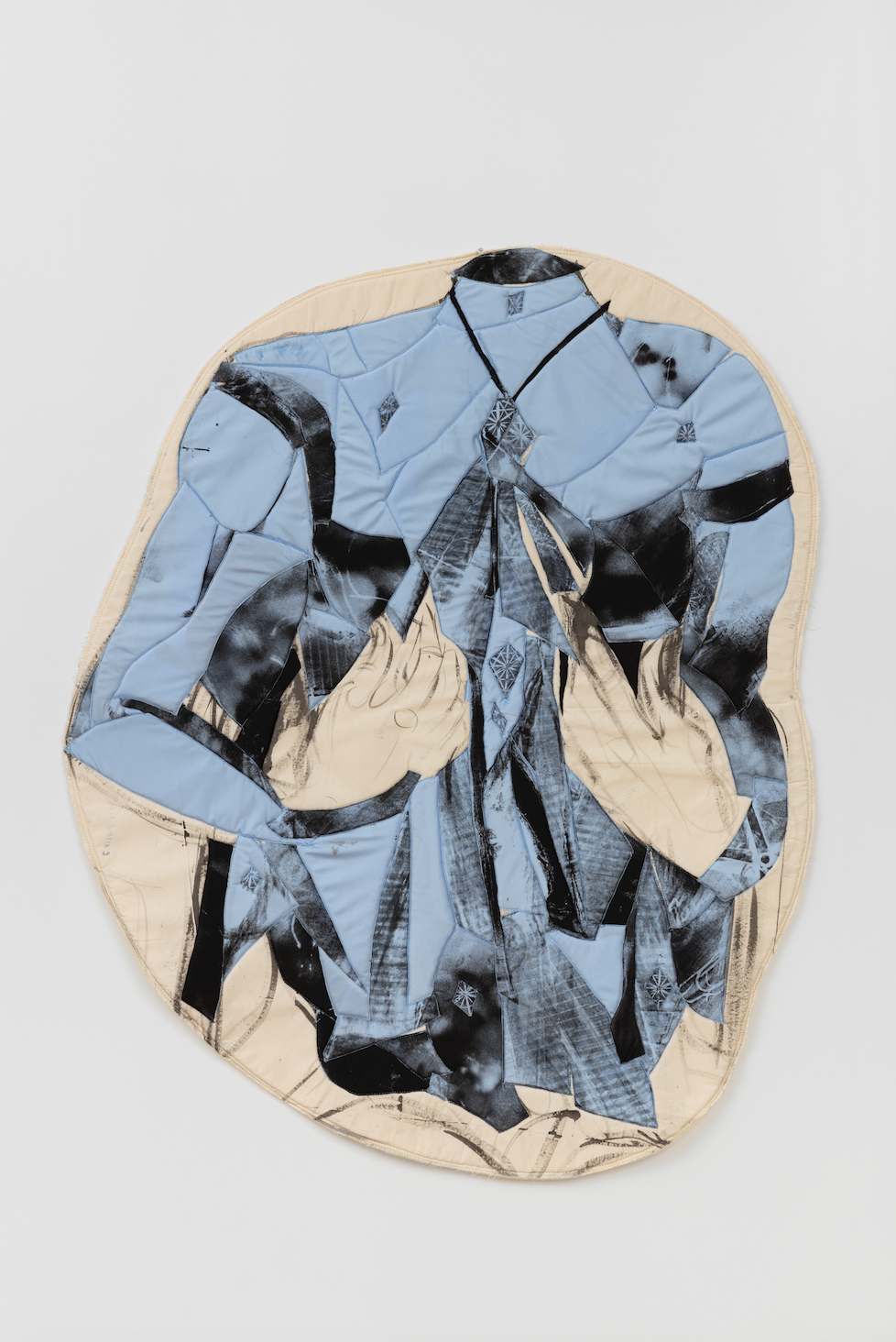 AL
You studied fashion, you display your sculptures on clothing rails and you've also worked as a model before.

Is that something that still influences your work today?
AB
This hybrid aspect has been very interesting to me for a long time. My graduate collection was very much influenced by household objects, utility materials, things that I would like to reappropriate. The materials that I'm making prints out of now remind me of just going into where dad had all of his tools, bits for the car and various miscellaneous objects.

I had no idea what they were used for, but they were fascinating for a curious child. I would grab them and inject them into my own games, trimming the bristles of a hoover to make a moustache for my dolls - borrowing and lending these different meanings and uses.
AL
Your work is so rich to unpack. You're very generous with your work and the clues to interpret it, without being too obvious.

Whether it's objects, whether it's form, whether it's the process of sewing, the seductiveness of it draws people towards it in such a unique way.