Zheng Guogu
Mantra Wheel (for Career, No. 2)
2012
oil on canvas, 200 x 200 cm
Zheng Guogu (b. 1970, Yangjiang) studied printmaking at the Guangzhou Academy of Fine Art. He co-founded the Yangjiang Group in 2002 along with Chen Zaiyan and Sun Qinglin, which is an artist collective that focuses on experimental Chinese calligraphy and sculpture. Guogu uses his intimate knowledge of traditional Chinese, Buddhist, Daoist art and spirituality to create meditative paintings that establish a connection with the viewer in a moment of "pure energy".
"Take a deep breath as you stand in front of the painting. Then move the air up. You have to breathe from your centre. It prepares your energy for viewing the rest of the show. My whole practice is beyond abstraction or concept. It's a direct interaction with your body. You don't have to read or to know anything, but to feel it. You yourself become a part of the artwork. You shouldn't think. It's not Pop or symbolism, it's about the subconscious."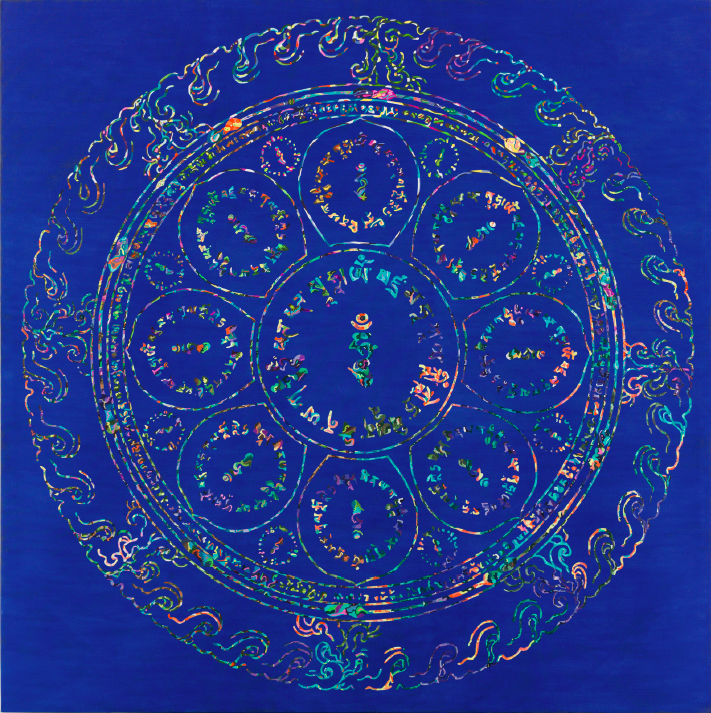 "If the fictional realm overlaps with the real world, one could soon discover the backwardness of reality. Hence, when the two domains are combined together, it will be our future."