Joan Jonas
Victory to the BEES!!
2016
watercolour on handmade paper, 75.6 x 55.9 cm
Joan Jonas (b. 1936, New York City, NY) currently splits her time living and working in New York and in Nova Scotia, Canada. Jonas graduated from Mount Holyoke College with a Bachelor's degree in Art History and went onto study sculpture and drawing at the School of the Museum of Fine Arts in Boston, as well as pursuing a Master of Fine Arts in Sculpture from Columbia University.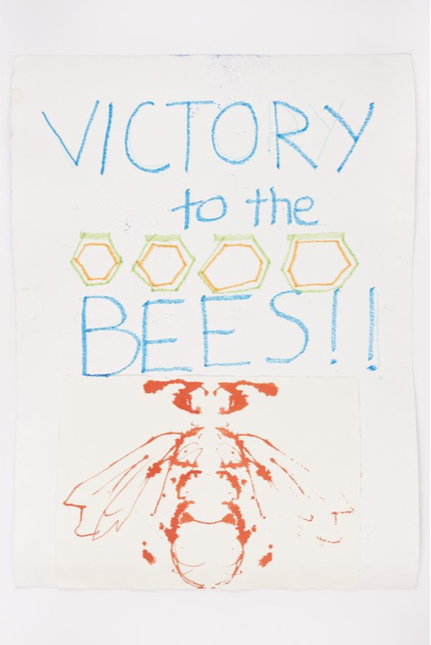 Drawing on the writings of Halldór Laxness, Victory to the BEES!! provides both a visual call to action and celebration of a prevailing natural world. Jonas highlights the "miracle of the bee" that brings a source of hope in a time of climate uncertainty. Jonas' methods involve using long sticks affixed with brushes to apply paint to the surfaces, removing herself from the physicality of the work, focusing on the abstracted natural elements.
"There is a continuity in the work, and sometimes one thing segues into the next. But I always try to choose a new subject or form. Sometimes, you don't know what you're doing. You just begin."